A Simple Set of Histories : Thierry Thieû Niang's A Time of Spring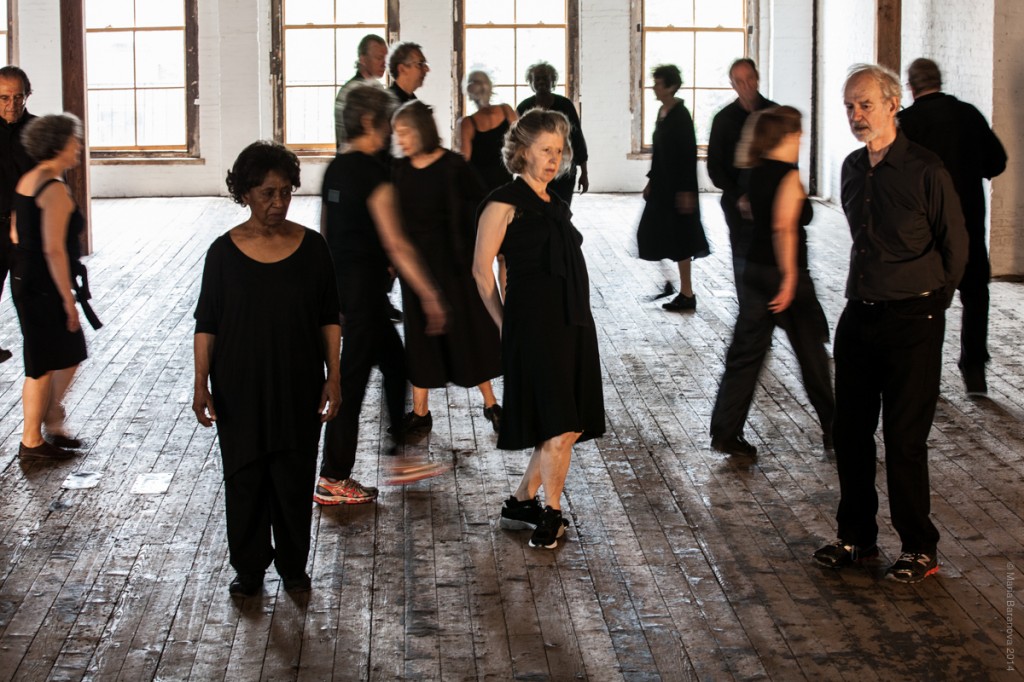 Voir la création
It seemed fitting to witness Thierry Thieû Niang's A Time of Spring at the Invisible Dog Art Center on the Sunday of Mother's Day.
The hybrid theater-gallery-artist's studio space emerged in the Brooklyn neighborhood of Boerum Hill in 2009, and has not only become one of the foremost spaces for both visual and performance art in the area, but the borough and entire city as well.
However, its most relevant impact can perhaps be seen in the audiences of its many events. It's a place not only where the most devoted of performance goers congregate, but of families who live in the surrounding neighborhoods — who may be passing by on a casual Sunday outing and find themselves unwittingly entrenched in the audience.
Regardless of how they got there, they were there to witness Niang's newest iteration of A Time of Spring, involving sixteen senior members of the community in addition to two performers who joined from the most recent performance in Paris. With less than two weeks of rehearsal, this show was a part of DANSE : A French-American Festival of Performance and Ideas, organized by the Cultural Services of the French Embassy and co-presented with Abrons Arts Center.
The performance began with a reading of excerpts of The Diary of Vaslav Nijinsky by actor Stephen Greco, ambling on about seemingly trivial and convoluted details of the choreographer's life as if he were reading a bedtime story to a child. Greco did not necessarily expect us to absorb the gritty thought behind Nijinsky's words but allowed them to wash over us as they may.
"I am Egyptian…I am Negro…I am Japanese… I am Tolstoy's tree, "he said. Then, "Criticism is an attempt to be clever. I am not trying to be clever," and we all laugh.
The vast third floor performance space was at once a vessel for history and community, and, though the sun offered a relentless glow that seeped through the many windows in the space, there was an unforgiving void that seemed to swallow Greco whole.
As his words faded, Ryan Frank, aptly named "the Runner" and the youngest performer in the group (age 33), began to circle the periphery at a brisk jogging pace. His run was simple and unaffected, becoming at once the timekeeper and arbiter of this work — or, perhaps, the sacrificial body that Stravinsky's narrative usually implies. His orbit was both dizzying and comforting ; at many moments, I forgot he was there, only to remember his presence continued to be the very motor of the piece.
The simple, nearly minimalist choreography Niang laid out allowed movement and music to coexist easefully. The performers entered the space one-by-one and alternated individual walking patterns, punctuated by short bursts of running and the changing of arm positions : hands casually linked behind the back, hands tenderly over the heart, hands on top of head as if to surrender.
The movement was unassuming and natural, but it culled an emotional response. These acts were universal and, therefore, powerful in even the plainest of execution.
In my viewing, it harkened to Steve Paxton's 1967 "Satisfyin' Lover," a pared down work that bothers with nothing more than walking and standing. If Paxton, the renegade of the Judson Dance Theater, was ever at all interested in the booming, emotional turns of Stravinsky's intricate score over his signature and stark silence, you may land somewhere in Niang's world. But, where Paxton organized performers in pervading linear patterns, Niang kept this group in contained orbit. The circular motion continued even as there were sporadic outliers, as when one elder female ripped off her wig and broke into full running sprint.
Both works are a study in the profound acts of walking, running, standing still—just being in the room with others is enough. The constantly shifting bodies—coming together and apart as lungs may contract and expand— creates a capsule of multiple records : Paris 1913, NYC 1967, and Brooklyn 2014. This collision of histories rooted itself beautifully in the bodies of these performers. They carried their own weight of experience, their own accumulation of wisdom.
Though the performers—clad in black with downcast gaze—created a somber scene, Niang's piece highlighted the joyous possibilities of Stravinsky's music by pitting the most natural of human acts—walking, running, standing—with the most realized of human potential—Stravinsky's score.
With a piece of music so riddled with historical clout, I have never been able to view any performance of Stravinsky's Rite without the shadow of its riotous premiere in 1913. But, whether the shiny glow of an all-too-warm Brooklyn sun or the fact it was Mother's Day, I was able to locate joy in this music for the first time. And, why not ? Pure joy, like a compelling performance, occurs in rare moments. Luckily, Niang's work gave me both.
Tara Sheena - DIYdancer - 24 mai 2014 / Photo Maria Baranova
Voir en ligne : Retrouvez cet article sur le site DIYdancer